De Circle Pillows vormen de ultieme accessoires voor in elke tuin stoel of lounge set, bijvoorbeeld de Paletti van Fatboy!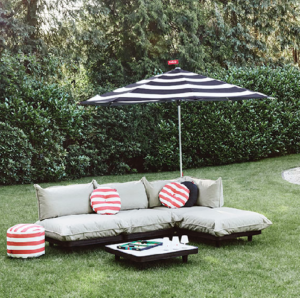 De Circle pillow van Fatboy is in 3 verschillende kleuren met streep en 3 verschillende kleuren effen. de stoffen van de kussens zijn speciaal ontwikkeld voor het outdoor leven.
Daarom zijn ze:
uv bestendig, verkleurt dus niet 🙂
water bestendig, geen stress bij een onverwachte zomerse regen bui.
vlek bestendig, makkelijk schoon te maken.
Vulling: Polypropyleen, gaat dus niet muf ruiken
Water- en vuilafstotende PVC-coating, gaat je glas rode wijn over het kussen o-oh of toch niet!
Met bleek te reinigen!
Water- en vuilafstotende stof met uitstekende kleurvastheid (volledig gekleurd in verfoplossing).
zo kun je optimaal genieten van je Circle Pillows!
(Tip: Op zoek naar een stijlvol geheel? Kies dan voor de effen variant die matcht met je Paletti.)